Please Note: Program not available for the summer and fall 2022 terms.
Salzburg College offers four 2-week Summer Sessions, and students may enroll in one, two, three or all four sessions. For one session, students take 1 course for 1-3 U.S. credits. The academic course work emphasizes the special opportunities provided by the Salzburg setting and offers an introduction to various aspects of Austrian and European culture. Experiential learning beyond the classroom is an important part of the academic program. This includes coordinated learning visits to historical sites, cultural institutions, professional organizations, artistic and musical events.
Visit Salzburg College Website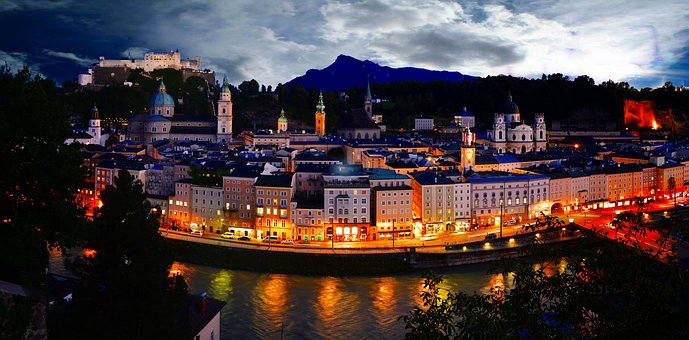 Salzburg is considered by many to be one of the most beautiful cities in Europe. With a population of about 150,000, Salzburg is situated in the heart of Europe on the northern edge of the eastern Alps right at the Austrian-German border. Surrounded by picturesque mountains, the city still mirrors in its historical center — a declared UNESCO World Heritage Site – more than a thousand years of European history and culture. Its rich and vibrant cultural heritage is reflected in concerts, festivals and a great variety of events throughout the year.
COURSES, CREDITS, and GRADES
Students may enroll in one, two, three or all four summer sessions. For one session, students take 1 course for 1-3 U.S. credits. Students must complete a Course Substitution Form in order for courses to transfer back as LSP, major, or minor credits at Truman.
AREAS OF STUDY
Art & Photography
Business
Communication
European Studies
German Language and Culture
Music
Salzburg Course Availability
STUDENT LIFE
As a complement to the academic program, students take day trips to nearby towns, including both the lake and mountain district. Students participating in the Sport Abroad program will have a 3-day excursion to Vienna, Austria's historical capital, which will provide a broad range of experiences related to history, art, music, and modern life in Europe.
Students can join a 'buddy system', a joint project of Salzburg College and the University of Salzburg, allowing SC students to be linked up to Austrian students and thus facilitating the process of social integration. Salzburg College students are also invited to participate in the University of Salzburg sports offerings. There are lots of extra-curricular activities, such as hiking, climbing, winter sports, and cooking.
HOUSING
Students can choose between home-stay with an Austrian family or living in a carefully selected university dormitory. Housing assignments are based on interviews conducted during the initial field trip through Bavaria. Becoming part of an Austrian host family or joining Austrian students in a dormitory allows Salzburg College students to learn to understand Austrian customs and values first hand. This is a particularly rewarding aspect of studying at Salzburg College.
Salzburg Housing
ESTIMATED TRUMAN BILL: $3,365

Study Abroad Administration Fee: $600
Study Abroad Program Fee: $1837
Includes: Tuition for 12 credit hours, course-related excursions and guest lectures, social activities and events
Study Abroad Housing Fee: $890
Including: Accommodation in dormitory or host family, weekday lunches while program is in session
Study Abroad Insurance Fee: $38
Calculated at $38.00 per month x 1 month
ESTIMATED OUT-OF-POCKET COSTS: $2,495

International Airfare: $1,500
Passport Costs: $145
Books & Academic Supplies: $150
Food: $150
Personal Expenses: $500
Public Transportation: $50
ESTIMATED TOTAL COSTS: $5,860
The estimated total cost of the program covers the billable charges to your Truman student account and any out of pocket expenses that you may encounter prior, during, and after the program.
PROGRAM DATES & DEADLINES
Term: Summer 2021 Application Deadline: February 15, 2021
Program Dates:
TBD
PROGRAM ELIGIBILITY
Students must have a cumulative 2.7 GPA or higher, be in good standing with the university, and have at least sophomore standing.
This program is open to all majors.
HOW TO APPLY
Apply through TruView. Under your Student Tab, click on "Apply to Study Abroad." When prompted, select which term and "I am enrolling in a semester or summer program…" and on the next screen, select "Salzburg College" from the program dropdown. After that, you'll be prompted to complete a faculty recommendation, a statement of purpose, and some emergency information and waivers.
Submit Additional Materials and Check Your Status on TruView. Once you have submitted your application, you can go to TruView to view your application status. Immediately after submission, your application status will be "Submitted, Awaiting Review." After your application has been reviewed by the study abroad office, you will receive an email from the Study Abroad office with your next steps. Your status will be updated to "Reviewed, Awaiting Materials" and a list of additional required materials will appear in TruView. Use this list to track what steps you need to complete.