Financial Aid Information for Study Abroad
Affordability is one of Truman's core values and there are several ways to make international study an affordable option. With the help of Truman's academic scholarships, federal financial aid and other financial assistance, a study abroad experience may be more attainable than you think. This is an investment that will pay you dividends for years to come. Take a look below for information regarding various forms of financial aid available to Truman students studying abroad:
Please make an appointment with the Financial Aid Office as early as possible to accurately determine your financial aid situation and how it applies to the study abroad program you choose.
If you are NOT a Truman student, contact Truman's Financial Aid Office or the Study Abroad Office at your home institution.
---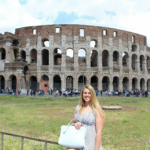 "Traveling (I only stayed within Europe) is a lot more affordable than I thought, so definitely see all you can while living abroad! Just make sure to budget in advance so you know how much you have to spend. Always budget more than you need; I spent more money than I expected, but it was worth it!"
—Alissa H., Studied Abroad in Prague, Czech Republic
---
Center for International Education Abroad
Truman State University
Baldwin 106
100 East Normal Avenue
Kirksville, MO 63501
(660) 785-4076
studyabroad@truman.edu