Financial Aid Information for Study Abroad
Affordability is one of Truman's core values and there are several ways to make international study an affordable option. With the help of Truman's academic scholarships, federal financial aid and other financial assistance, a study abroad experience may be more attainable than you think. This is an investment that will pay you dividends for years to come.
Information regarding various forms of financial aid available to Truman students studying abroad can be found at the following links.
If you are NOT a Truman student, contact Truman's Financial Aid Office or the Study Abroad Office at your home institution.
Please make an appointment with the Financial Aid Office as early as possible to accurately determine your financial aid situation and how it applies to the study abroad program you choose.
---
Cultural Loan
A limited number of cultural loans may be authorized to encourage participation in "study abroad" programs. The maximum loan is the cost of the trip, minus other financial aid, but not more than $6,000. Cultural loans are available to students who meet the general eligibility requirements and, in addition, who meet at least one of the following standards: earned at least a 2.5 cumulative grade point average in courses taken at the University; or earned at least a 2.5 grade point average in foreign language courses taken at the University; or enrolled in a foreign language class at the University for which a "study abroad" experience is either required or strongly recommended.
Interest:   Five percent (5%) per annum on the unpaid principal balance, with interest to accrue from the date of the loan.
Service Charge:  None
Repayment:  Interest shall be payable quarterly each year until amortization payments of principal and interest are required.  Amortized payments of at least sixty dollars ($60) per month shall begin three months after a debtor student leaves the University through graduation, withdrawal, transfer, or any other reason.  The monthly payments shall be calculated to repay the loan in full, including both principal and interest, within three years after the payments commence.
Deferment of Repayment:  May be authorized by the Financial Aid Committee.
Third Party Guarantees:  Loans must be co-signed by two guarantors (normally the student's parents) acceptable to the Financial Aid Committee.  If the student is married, then the student's spouse must also guarantee the loan.
Click here for the Cultural Loan Application and the Study Abroad Funding Sheet.
---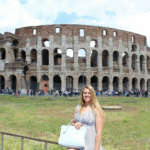 "Traveling (I only stayed within Europe) is a lot more affordable than I thought, so definitely see all you can while living abroad! Just make sure to budget in advance so you know how much you have to spend. Always budget more than you need; I spent more money than I expected, but it was worth it!"
—Alissa H., Studied Abroad in Prague, Czech Republic