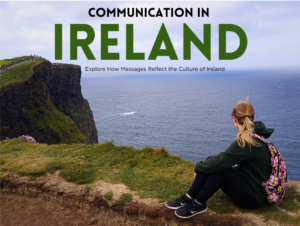 Communication in Ireland
This course introduces students to strategic communication and its influences on public opinion, within the culture of Ireland and Northern Ireland. This course will look at a variety of communication methods, including traditional and new media, as well as visual rhetoric, and the purpose and impact of those communication efforts. This course will specifically look at communication efforts in Ireland and Northern Ireland.  
Developing an understanding of communication will make students more aware of strategic communication in today's world. This understanding would be beneficial for students from a variety of majors.    
May 13 – June 1, 2024
What You'll Study
Course Name: Communication in Ireland
Credits: 3.0
Pre-Requisites: Communication major or minor or with instructor approval.
Course Description: This faculty-led experience will expose students to communication in an international setting. Students will learn from a Truman instructor, as well as Communication professors and professionals from the destination country. Areas of discussion will focus on public relations, journalism and photography. Students will learn theoretical foundations, as well as apply those concepts in various settings.
Click Here to See the Complete Course Syllabus.
Course Objectives
After successfully completing this experience, students will:
Understand basic communication and design theories

Understand the concepts of strategic communication

Better appreciate how strategic communication has been used to influence public opinion throughout history

Understand how changes in technology have affected communication methods

Understand how communication through public displays affects perceptions of an event or topic

Understand how communication tools have been used to influence public opinion

Appreciate how communication through monuments continues to play a role in today's society  
Class Activities and Assignments
This class will include a variety of activities and assignments aimed at helping students understand Communication and a new culture. As this is a condensed course, it is important students observe deadlines and submit all work in a timely manner. Assignments will be posted and accepted on BrightSpace or Google Drive. Description of assignments. Complete descriptions will be provided during the trip.
Students will be expected to complete:
Blog Posts – students will be required to set up a blog and create at least 10 posts during the trip. Posts should focus on a common theme of the experience, not simply be an online journal. Students are advised that these posts will be publicly available. Grading will be based on development of topics in each post and writing quality.
Journal – Each student will be required to post to an online journal through BrightSpace created by the instructor. A total of 10 entries is expected during the trip (about one every other day). The entry should be a minimum of 200 words. These posts offer a forum for the student to discuss the trip, the experiences, expectations, etc. in a private setting. This will also allow the instructor to determine effectiveness of the trip and to make adjustments/changes, if possible.
Reporting – Students will work on an individual reporting project. This project will require a story idea be approved by the instructor. Students will then develop the story, including gathering sources and writing the story. Students should take at least one photo of each source. Stories should be a minimum of 700 words. Grading will be based on quality of story idea, quality of written piece, quality of interviews and level of difficulty of assignment, picture quality.
Photography – Students will be required to submit a minimum of 12 photographs. Photographs will include elements from discussion, including lighting, composition and storytelling. This assignment will highlight the visual aspect of communication. Each photograph must include a cutline. Grading will be based on technical quality, cropping and storytelling. Photographs may be critiqued in the class.
Essay – Students will complete a 3-page paper discussing a part of the trip (something we've seen) and how communication has been used and whether the communication was effective and the impact it had/has. 
Course Materials
There is no textbook for this course. Readings will be made available through Brightspace. These readings will cover both Communication­ related topics, as well as country-specific information. Additionally, students will be expected to use media in the host country, including TV news, newspapers and social media.
You will be required to provide:
Laptop – A laptop will be necessary to complete several of the assignments. Smartphone-A smartphone will be helpful (see below)
Camera– Students should have access to a camera. A smartphone camera is acceptable.
Audio Recorder – Students should have access to an audio recorder. An audio recorder app on a smartphone is acceptable.
---
What You'll Pay

TOTAL COST ON STUDENT BILL: $6,708.50*
Study Abroad Enrollment Fee: $1,141.50
Calculated at $380.50 per credit x 3 credits
Study Abroad Course Fee: $54.00
Calculated at $18.00 per credit x 3 credits
Study Abroad Insurance Fee: $41.75
Calculated at $41.75 per month x 1 months
Study Abroad Travel Fee: $5,471.00
Including: Accommodations, Transportation in Country, Admissions and Cultural Experiences, Guest Lectures, Contingency Fund, Breakfast and Some Meals and Instructor Travel Expenses
Flight Information: This program DOES NOT INCLUDE GROUP AIRFARE (see below for additional information)
*All pricing is TENTATIVE PRICING ONLY.
Foundation Scholarships Available
The Truman State University Foundation offers scholarships to students who are studying abroad on faculty-led programs. Students applying for faculty-led programs will be automatically considered for Foundation Scholarships when they complete their TruView Study Abroad application by the their program's deadline. To Apply: 
TruView

> Student > Registration Tool > Apply to Study Abroad > Application > Term: May Interim 2024 > Applying for Faculty-Led Program
In addition to potential scholarships, students may be eligible for additional financial aid. Please talk with the Financial Aid Office for more information.
PAYMENT SCHEDULE
| Options | Due | Amount |
| --- | --- | --- |
| Early Deposit* | 12/4/2023 | $200.00 |
| OR Regular Deposit* | 1/19/2024 | $200.00 |
| Payment 1 (Confirmation Payment) | 2/19/2024 | $3,254.25 |
| Payment 2 (Final Payment) | 3/19/2024 | $3,254.25 |
*Early deposit is required for consideration for Foundation Scholarships. Early Deposits received before 12/4/2023 will be refundable until 1/19/2024.
ESTIMATED OUT-OF-POCKET EXPENSES

This section contains estimated out-of-pocket program costs students will pay themselves before, during, and possibly after the program. The items appearing here are only estimates and will vary due to changes in currency rates, market conditions, foreign government fee increases, personal student spending habits, and non-program related activities in which a student chooses to participate.
| Expense | Estimated Cost |
| --- | --- |
| U.S. Passport (first time applicant) | $200.00 |
| Travel Health Consult & Vaccinations | $100.00-$200.00 |
| Meals on Your Own | $300-$500 |
| Personal Necessities | $50.00-$100.00 |
| Airfare | $1200.00-$1600.00 |
Flight Information
This program does not include Group Airfare as part of its billed cost. Students participating in this program will not have their flights arranged for them, but must purchase their own tickets. Students should never purchase tickets until they receive notice from the study abroad office that their program has been confirmed. This cannot be confirmed until after the first trip payment deadline. Additionally, students are highly encouraged to investigate travel or flight insurance options or purchase cash-refundable tickets according to their need to mitigate risk of financial loss should the program or flights be cancelled. Students must share a copy of their tickets or an itinerary of travel with the study abroad office at least one month prior to departure. Students are free to arrange with one another to travel in groups to the destination, but the Study Abroad Office will be unable to assist with such arrangements. The program will officially start at a designated meeting point in the country where the program takes place. Program directors will give students detailed instructions on the exact time and place where the group will convene and any necessary logistical information about how to get there. Students will be responsible for getting to the designated meeting place at the indicated time. Students who experience delays or other issues arriving on time should communicate with their program directors as soon as possible. Similarly, the program will conclude at a designated time and place in the country abroad and students will be responsible for their return travel home.
Cancellation and Refund Policies
There are two situations under which CIEA will cancel a faculty-led program. The first is cancellation ahead of or as of the confirmation deadline, typically due to insufficient enrollment. This occurs when a program fails to reach the minimum number of confirmed participants by the confirmation deadline or when other events lead a program to have to be cancelled before it is confirmed. Since program funds are never spent until the program is confirmed, participants in programs cancelled before or as of the confirmation deadline will all receive a full refund of all program fees they have paid to that point. The second circumstance is cancellation due to unforeseeable circumstances after a program has been confirmed. While CIEA attempts to avoid cancellation wherever possible, there are certain times when it is unavoidable, such as global pandemic, changes in local conditions, or even if a large number of late withdrawals makes a program financially non-viable. Under these circumstances, CIEA will issue all participants a refund of all program fees which have not already been paid in non-refundable payments to a third party vendor. CIEA will do its best under such circumstances to recover all costs and mitigate any losses for students, but cannot guarantee a full refund. In the extremely rare event that a program were cancelled while in progress, the Executive Director for International Education in consultation with the VPAA, the Comptroller, and University Council would review the circumstances and make a determination regarding any refunds.
Refunds for students who voluntarily withdraw from a program will vary depending on when they withdraw, according to the following guidelines:
Withdrawal before the confirmation deadline: refund of confirmation payment (if already made)
Withdrawal after the confirmation deadline but before the final payment deadline: refund of final payment only (if already made)
Withdrawal after the final payment deadline: no refund
Students who wish to withdraw must make their withdrawal official by completing the withdrawal form. CIEA will consider withdrawal official on the day the form is submitted and follow up with students with a withdrawal email detailing all withdrawal policies. Finally, students who are dismissed from the program due to disciplinary or other issues will not be entitled to a refund of any program payments and will additionally be responsible for all additional expenses related to their early departure from the program.
Testimonials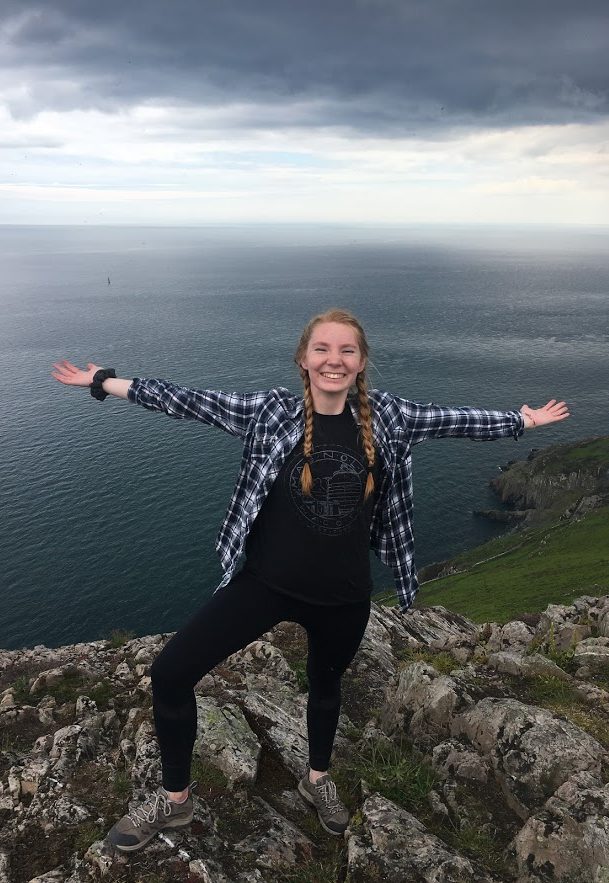 "It is a wonderful opportunity to get to experience another country without committing to a full semester or too much of a cultural difference. I loved the flexibility to be able to plan different excursions on our free days and afternoons that allowed me to travel to other locations and explore the cities we were in. It is also a great chance to further your experiences in the communication field and to be able to gain a more global perspective of what that looks like in other countries."
Kara De Bruin, Communication Major, Class of 2021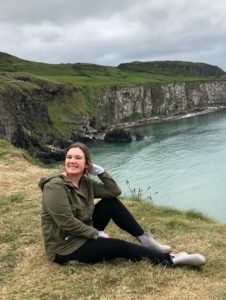 "My favorite part of the whole trip was meeting with the CEO of the Public Relations Institute of Ireland. For two hours we got to ask her questions about her 25-year public relations career and pick her brain on current trends in the industry. She was also able to give us tips as new professionals starting out in our careers. It was amazing to learn from someone as accomplished as her."
Mollie Doughterty, Communication Major, Class of 2019
Your Instructor

Prof. Don Krause
Associate Professor of Communication
dkrause@truman.edu | BT 1203
Don Krause joined the Truman State University faculty in 2007, after serving as a print journalist for 15 years. He teaches a variety of courses in journalism, public relations, strategic communication and publication design. In addition to teaching, he serves as the adviser to the student newspaper, The Index, and news website for the Truman Media Network. He also advises the Ad and PR Organization. His research interests include social media, public relations and journalism. Krause was named Truman's Educator of the Year in 2015 and received the Governor's Award for Excellence in Education in 2016.
How to Apply
Apply through TruView. Go to TruView > Tools > Student > Registration Tool > Apply to Study Abroad > Application > Term > Applying for Faculty-Led Program. TruView Applications for this program will open at the start of Fall semester. Students applying for faculty-led programs will be automatically considered for Foundation scholarships when they complete their TruView Study Abroad application by their program's deadline. The application will ask for responses to several short-answer questions, passport information, two emergency contacts, and your acceptance of an assumption of risk and release form and media waivers.
Complete Your Registration Agreement. At the time of application, you must complete your registration agreement for the program term through TruView.
Submit Additional Materials If Required. After submitting your application, you may be contacted by the Instructor or the Study Abroad Office with a supplemental application document to complete and return. In some cases, an in-person interview may also be required.
Pay the Truman Cashier a $200 deposit. Once you have been accepted into this program, you will need to immediately pay the Truman cashier a $200 deposit in order to secure your spot in the program. You may also pay online by going to: TruView > Student > Student Finances & Employment > Student Account Suite > Then follow the steps: Click "Deposits" at the top of the page, Select the term, Select a deposit payment method, "Continue" Choose a payment method.