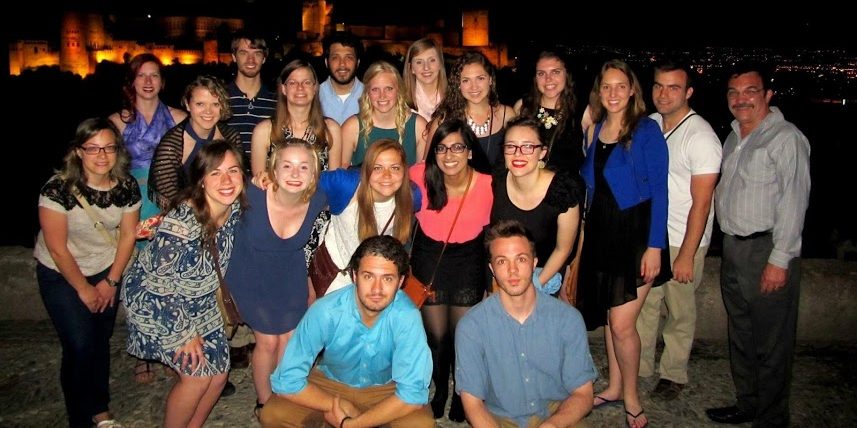 SUMMER STUDY ABROAD IN SALAMANCA
This is a 12 credit Spanish language and culture program held at Academia Mester in Salamanca, Spain. In addition to daily class work students are immersed in the native culture by living with a host family, by taking part in the many group activities. In addition to the six weeks of instruction in Salamanca, the program includes field trips to Madrid, Toledo, Castile, Extremadura, Andalucía, Cantabria, and Galicia. Pricing information will be made available when the program is approved. Please contact the program directors or the Study Abroad Office if you have any questions.
Where You'll Go*
Order and dates of some activities may change depending on availability.
May 20: Departure from each student's hometown / Overnight flight to Madrid, Spain
May 21: Morning arrival in Madrid / Meet Prof. Tornatore and Prof. Carreño at the airport / Transfer to hotel / Rest time / Evening instructional tour downtown & Parque del Buen Retiro (weather permitting) / Estación Atocha / Overnight in Madrid
May 22: Tour of Madrid: Panoramic tour, Palacio Real, Museo del Prado, Plaza Mayor, Puerta del Sol (museums and monuments) / Overnight in Madrid
May 23: Early morning transfer to Toledo / Tour of Toledo: Cathedral, Church of Santo Tomé, El Alcázar / Transfer to Salamanca / Students meet host families / Prepare for start of classes
May 24: START of CLASSES: Arrive at Academia Mester at 9:00 a.m. / Classes begin at 9:30 / Tour of Salamanca (Mester) in the afternoon
May 25-July 9: Classes from 9:30 a.m.-2:00 p.m. M-F and 4:00-6:00 OR 6:00-8:00 M-TH
May 29 (Weekend 1) Tour to Ávila and Segovia with Mester
June 12: Día de San Juan de Sahagún (patron saint of Salamanca)
June 5-6 (Weekend 2) Free for individual travel (after 2 p.m. Friday)
June 12 (Weekend 3) Tour to la Alberca and Sierra de Francia with Mester
June 19 (Weekend 4) Tour to Astorga and León with Mester
June 26-27 (Weekend 5) Free for individual travel (after 2 pm Friday)
July 3-4: Weekend 6 Studying for final exams (no travel permitted)
July 8-9: Final exams
July 9: Last day of classes / Free afternoon / Early evening farewell dinner
July 10: Free day to pack and get ready to leave Salamanca
July 11: Transfer to Mérida / Early visit to Roman ruins and historical sites / Afternoon transfer by motorcoach to Sevilla / Plaza España / Overnight in Sevilla
July 12: Visit to Reales Alcázares / Cathedral / Overnight in Sevilla
July 13: Morning transfer and tour of Córdoba (La Mezquita) / Afternoon transfer to Granada / Overnight in Granada
July 14: Visit to La Alhambra / Center of Granada and Cathedral / Flamenco show / Overnight in Granada
July 15: Students free to travel on their own. They are responsible for their round-trip airfare and for returning to Madrid or whatever their airport of departure is.
*Please remember that this itinerary is tentative and subject to change. More details will be shared as they become available.
What You'll Study
Course Name: Summer Study Abroad in Salamanca, Spain
Course Number: ESP 300
Credits: 12.0
Prerequisites: SPAN 202 – Intermediate Spanish II
Degree Fulfillments: Satisfies LSP Intercultural Competency Requirement, satisfies Spanish Minor requirements
Click Here to See the Complete Course Description.

Let Us Know You're Interested!

Due to world-wide travel restrictions, the Study Abroad Office has delayed opening the application and deposit process for the "Summer Study Abroad in Salamanca" faculty-led study abroad program to Spain for Summer 2021. However, we are asking interested students to COMPLETE THIS ONLINE INTEREST FORM in order to better understand who is considering programs this year and keep you up to date with the most current information about applications, deadlines, and program changes. Completing this form does not commit you to participating in a program or create any charges on your student account. It will only be used to help our office better communicate with interested students to facilitate your application process.