May 14-27, 2023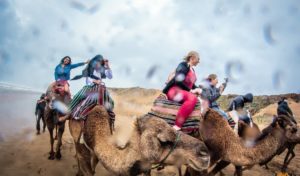 PLEIN AIR PAINTING IN MOROCCO
Plein Air Painting is the practice of creating observational works of art on-site. During this course, students will gain the technical proficiency necessary to create on-site watercolor paintings while learning about the unique cultural heritage of the country visited. The skill of visually capturing the surrounding environment is a tool that benefits many visual careers. Additionally, trips to major art centers and works of architecture will enrich student's art practice and cultural knowledge.
Where You'll Go (Summer 2023 Plans)*
This information is a draft for a possible itinerary for this program. We are still working out a final itinerary with our overseas partners. Please contact the course instructor for more information or check back later to see an updated itinerary.
When
Where
What
May 14
Saint Louis/ Kansas City to Rabat, Morocco
May 15
Arrive Rabat, transfer to Chefchaouen
Arrive in the city, rest, eat. In-country orientation.
May 16
Chefchaouen
Walking tour of city
The medina, Grand Mosque, kasbah
May 17
Chefchaouen
Plein Air Painting 2
May 18
Chefchaouen – Fes
Walking tour of Fes medina (Fes el-Bali), visit Medersa Bou Inania, Batha Museum, tanning facilities (Chaouwara)
Plein Air Painting 3
May 19
Fes
Plein Air Painting 4
May 20
Fes
Plein Air Painting 5
May 21
Fes – Volubilis – Cascades de Ouzoud
Guided tour of Volubilis
Plein Air Painting 6
May 22
Cascades de Ouzoud – Tanaghmeilt
Plein Air Painting 7
Tajine Lunch at Cascades
Spend night at Cascades de Ouzoud
May 23
Cascades de Ouzoud – Marrakesh
Walking tour of Marrakesh
Djemaa el-Fna, Medina, Bahia Palace, Saadian Tombs,
Plein Air Painting 9
May 24
Marrakesh
Visit Museum of African Contemporary Art Al Maaden, Majorelle Garden
Plein Air Painting 10
May 25
Marrakesh & Agafay Desert & Atlas Mountains
Day trip to Agafay Desert in the Atlas Mountains for Camel Riding
Plein Air Painting 11
May 26
Marrakesh-Rabat
Overnight Rabat. Program wrap-up
May 27
Flight from Rabat – Saint Louis / Kansas City
*Please remember that this itinerary is tentative and subject to change. More details will be shared as they become available.
What You'll Study
Course Name: Plein Air Painting Abroad: Watercolors
Course Number: INT 300
Credits: 3.0
Prerequisites: None
Degree Fulfillments: Satisfies both the Visual and Performing Arts Mode of Inquiry and the Intercultural Perspective requirements
Click Here to See the Complete Course Syllabus.
Course Objectives
To study the history and culture of the country visited.
To observe how art and architecture communicates civic identity.
To learn travel skills abroad.
To develop an appreciation of cultural differences both past and present.
To develop the technical, conceptual, and creative problem solving skills appropriate to the level of study and the needs of the work.
To build historical awareness and develop an understanding of how your work fits into the larger social contemporary dialogue.
To analyze and critique your work and the work of others.
Course Requirements
Attend all meetings and events.
Participate in discussions and activities.
Complete all assignments and projects.
Clean up your work area. Do not leave trash on site.
Follow the student code of conduct.
Act as a considerate and respectful member of the research team.
Consider a presentation to the university community (e.g. at the Undergraduate Research Symposium or though Residential College programming).
What You'll Pay

TOTAL COST ON STUDENT BILL: $5,590.50
Study Abroad Enrollment Fee: $1086
Calculated at $362 per credit x 3 credits
Study Abroad Course Fee: $54.00
Calculated at $18.00 per credit x 3 credits
Study Abroad Insurance Fee: $27.50
Calculated at $27.50 per 13 days
Study Abroad Travel Fee: $4,423
Including: International Airfare, Transportation in Country, Lodging, Admissions and Cultural Experiences, contingency fund, instructor expenses
Foundation Scholarships Available
The Truman State University Foundation offers scholarships to students who are studying abroad on faculty-led programs. Students applying for faculty-led programs will be automatically considered for Foundation Scholarships when they complete their TruView Study Abroad application by the their program's deadline.
In addition to potential scholarships, students may be eligible for a Study Abroad Cultural Loan through the Truman Financial Aid Office. If you are interested in a Cultural Loan, please talk with the Financial Aid Office prior to filling out a Cultural Loan Application, as there are other options that may be more financially advantageous.
PAYMENT SCHEDULE
| | Due | Amount |
| --- | --- | --- |
| Early Deposit* | 12/5/2022 | $200.00 |
| OR Regular Deposit (Commitment Deadline) * | 1/20/2023 | $200.00 |
| Payment 1 (Confirmation Payment) | 2/20/2023 | $2695.25 |
| Payment 2 (Final Payment) | 3/20/2023 | $2695.25 |
*Early deposit is required for consideration for Foundation Scholarships. Early Deposits received before 12/5/2022 will be refundable until 1/20/2023.
Your Instructor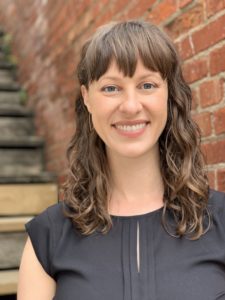 New experiences inspire creativity and Plein Air Abroad is a class that offers both. As an artist and traveler, Lindsey knows the joy of finding beautiful exotic places to explore while painting. This stems from her experiences abroad, which include serving as a Peace Corps Volunteer in Morocco for two years where she worked with artisans.
In her own studio practice, Lindsey uses diverse techniques to explore human interaction with the natural environment. Her artwork connects humanity to nature in small ways and large. At the intimate level, she tells stories of home and identity. On a larger scale, she considers our spiritual ties to nature and highlights the human impacts of climate change. Her work is an investigation of micro and macro personal connections and a reminder of the space we traverse. Lindsey is a three-time Hunting Art Prize Finalist and has shown nationally in solo and juried exhibitions. Her work was published in the 120 West edition of New American Paintings.
Lindsey was born in Anchorage, Alaska and eventually moved to Texas where she earned a Bachelor of Environmental Design Architecture from Texas A&M in 2007. After college, she worked as an architectural intern before deciding to join the US Peace Corps. From 2007 – 2009, Lindsey worked with artisans as a Small Business Development Volunteer in Morocco. In 2014 Lindsey completed a Master of Fine Arts in Painting and Drawing and in 2015 she finished a Master of Arts in Art History from Texas Woman's University. Lindsey is the Associate Professor of Art in Painting at Truman State University.
Photo Gallery
Images from previous programs and student experiences in Morocco.
Early Application Deadline: December 5
Students who wish to be considered for Foundation Scholarships will need to complete ALL OF the steps outlined below before December 5. Truman awards approximately $85,000 in Foundation Scholarships for Faculty-Led Study Abroad Programs. Typical individual awards range from $1,000-$4,000. Foundation Scholarships will be announced by December 14, and students will have until January 20 to either accept or decline any award. Deposits made before the early deadline of December 5 will be refundable until January 20 regardless of whether an award is received.
Regular Application Deadline: Rolling until January 20
Admissions for this program are rolling, but we encourage students to complete ALL OF the application steps outlined below as soon as possible, and no later than January 20, in order to secure a place in the program. All deposits made after December 5 will be non-refundable unless the program is cancelled.
How to Apply:
Apply through TruView. Go to TruView > Tools > Student > Student Tools > Registration > Apply to Study Abroad. Truview Applications for this program will open at the start of Fall semester. The application will ask for responses to several short-answer questions, passport information, two emergency contacts, and your acceptance of an assumption of risk and release form and media waivers.
Complete Your Registration Agreement. At the time of application, you must complete your registration agreement for the program term through TruView.
Submit Additional Materials If Required. After submitting your application, you may be contacted by the Instructor or the Study Abroad Office with a supplemental application document to complete and return. In some cases, an in-person interview may also be required.
Pay the Truman Cashier a $200 deposit. Once you have been accepted into this program, you will need to immediately pay the Truman cashier a $200 deposit in order to secure your spot in the program.