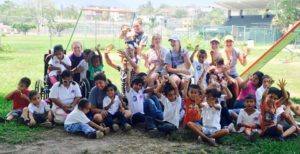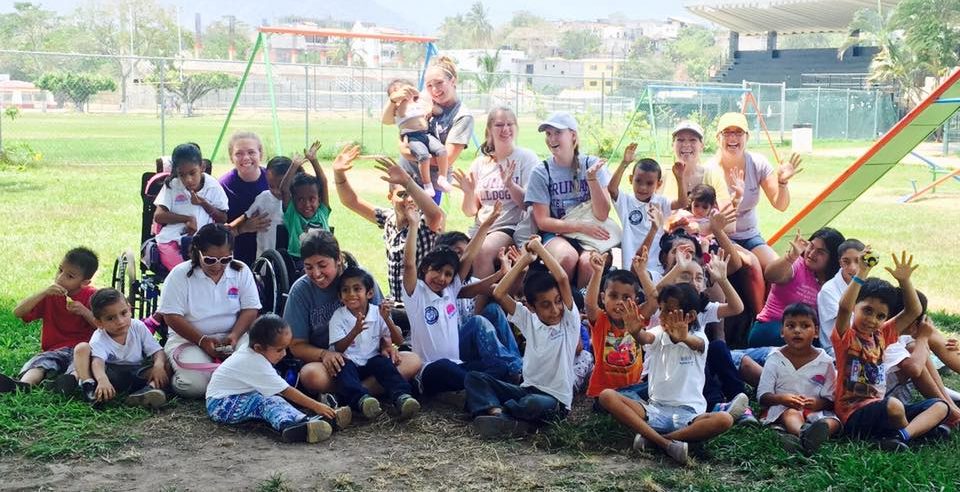 COMMUNICATION DISORDERS EXPERIENCE IN MEXICO
A communication disorders immersion and cultural experience providing oral-motor and hearing screenings, language-based activities, feeding screenings and education, as well as early intervention and pre-literacy caregiver training and education. All students will rotate through 4 sites: a "Pop-Up" clinic, a daycare for children with severe disabilities, an orphanage, and a special needs school all located in Puerto Vallarta, Mexico. Students and faculty will reside in a hostel during the experience. Two cultural excursions will be included within the day trip. Students earn clinical clock hours (a degree & certification requirement) via supervised clinical activities requiring licensed and supervised SLP/faculty. Pricing will be published when the program is approved. Please contact the program director or the Study Abroad Office for more information.
Where You'll Go*
Below is the tentative itinerary for the 2023 program. This is provided to give you a better idea of the types of experiences you can anticipate:
Tuesday, May 16th: Departure from US to arrive at Puerto Vallarta, Check into the Kraken Hostel, Discuss guest expectations, area tour, site orientations, dinner on your own.
Wednesday, May 17th: Breakfast at the Hostel, mock therapy practice, students go to CAM or Pop-Up Clinic, Cooking class at "Gaby's".
Thursday, May 18th: Breakfast at the Hostel, students alternate 2 sites, dinner on your own. Salsa dancing anyone?
Friday, May 19th: Breakfast at the Hostel, students alternate 2 sites, BBQ with Kraken Hostel and friends.
Saturday, May 20th: Breakfast at the Hostel, Visit local orphanages, Cruise & Dinner Theatre: "Rhythms of the Night!".
Sunday, May 21st: Breakfast at the Hostel, Day pool pass (additional fees), Hike to top of PV, beach/shop/rest, dinner on your own.
Monday, May 22nd: Breakfast at the Hostel, students alternate 2 sites, dinner on your own.
Tuesday, May 23rd: Breakfast at the Hostel, Students alternate sites, dinner on your own.
Wednesday, May 24th:  Breakfast at the Hostel, airport, then home.
What You'll Study
Course Name: Communication Disorders Experience in Mexico
Course Number: MEX 510
Credits: 3.0
Prerequisites: CMDS 380: Principals of Clinical Management & clinical assistant one semester; or CMDS 480; or CMDS Graduate School status
Degree Fulfillments: Satisfies LSP Intercultural Competency Requirement
Click Here to See the Complete Course Syllabus.
Course Objectives
International service learning makes a unique contribution to building global awareness, global partnerships and world peace. The purpose of the study abroad program is to enable CMDS students to expand the clinical skills they are learning in the class room to real life international applications and to work in a cross-cultural environment. In partnership with the orphanages, school, and day care facility, Truman CMDS students and faculty will provide service with the people of Puerto Vallarta, Mexico while learning about Mexican social, cultural, historical, economic, political and religious history, and present day reality. Students will enjoy the following benefits from the experience:
Cultural international exposure – a rich international experience designed to significantly enhance students' academic life at Truman State University
Vision of how they can make a difference in the world
Direct application of their education in an unconventional setting
Opportunity to share their knowledge and expertise
Learn to work as a team and collaborate as a group
Communication and presentation skills
Professor-student mentored learning – the opportunity to build close connections with other members of the University community (instructors and other students).
A small-class educational environment that will facilitate cross-cultural learning and that will add to the diversity of their academic experience (this diversity may exist as a result of self-guided study, inquiry-based activities, interdisciplinary approaches, and/or language immersion).
Course Requirements
Submit an application and statement of interest and objectives
Attend preparatory meetings
Read all assigned material
Select a presentation topic and group to gather preliminary information
Keep a daily journal during the trip
Participate in the reflective learning process while on the trip
Participate in all in-country events
Expand upon presentation topic through on-site interviews and recording observations
Using your preliminary research and information gathered while on the trip; create a Power Point presentation with your group to present fall 2023
What Students Say
Your Instructor

Andrea Richards
Clinical Instructor
arich@truman.edu | HS 2245
Foundation Scholarships are available.
In addition to potential scholarships, students may be eligible for a Study Abroad Cultural Loan trough the Truman Financial Aid Office. If you are interested in a cultural loan, please submit an application as soon as possible in order to allow adequate processing time.
TOTAL COST BILLED TO STUDENT BY TRUMAN: $2,895.50 (undergraduate), $3,105.50 (graduate)

Study Abroad Enrollment Fee: $

1086

(ug)/ $

1245

(gr)
Calculated at $362 per credit x 3 credits/$415 per credit x 3 credits
Study Abroad Course Fee: $54.00
Calculated at $18.00 per credit x 3 credits
Graduate Course Fee: $51.00 (graduate students)
Calculated at $17.00 per credit x 3 credits
Study Abroad Insurance Fee: $27.50
Calculated at $27.50 for the program
Study Abroad Travel Fee: $1408
Including: Excursions, Travel Expenses, Contingency Fund, and Instructor Costs
Flight Information: This program DOES NOT INCLUDE GROUP AIRFARE (see below for additional information)
Study Abroad Housing Fee: $320
Including: Lodging, breakfasts, and a welcome dinner.
PAYMENT SCHEDULE
| | Due | Amount |
| --- | --- | --- |
| Early Deposit* | 12/5/2022 | $200.00 |
| OR Regular Deposit (Commitment Deadline)* | 1/20/2023 | $200.00 |
| Payment 1 (Confirmation Payment) | 2/20/2023 | $1,347.75 (UG) or $1,552.75 (Gr) |
| Payment 2 (Final Payment) | 3/20/2023 | $1,347.75 (UG) or $1,552.75 (Gr) |
*Early deposit is required for consideration for Foundation Scholarships. Early Deposits received before 12/5/2022 will be refundable until 1/20/2023.
ESTIMATED OUT-OF-POCKET EXPENSES:

This section contains estimated out-of-pocket program costs students will pay themselves before, during, and possibly after the program. The items appearing here are only estimates and will vary due to changes in currency rates, market conditions, foreign government fee increases, personal student spending habits, and non-program related activities in which a student chooses to participate.
| Expense | Estimated Cost |
| --- | --- |
| U.S. Passport (first time applicant) | $145.00 |
| Travel Health Consult & Vaccinations | $100.00-$200.00 |
| Meals on Your Own (six dinners, snacks as you please) | $60-$100 |
| Personal Necessities | $30.00-$70.00 |
| Airfare | $600.00-$800.00 (estimated) |
Flight Information
This program does not include Group Airfare as part of its billed cost. Students participating in this program will not have their flights arranged for them, but must purchase their own tickets. Students should never purchase tickets until they receive notice from the study abroad office that their program has been confirmed. This cannot be confirmed until after the first trip payment deadline. Additionally, students are highly encouraged to investigate travel or flight insurance options or purchase cash-refundable tickets according to their need to mitigate risk of financial loss should the program or flights be cancelled. Students must share a copy of their tickets or an itinerary of travel with the study abroad office at least one month prior to departure. Students are free to arrange with one another to travel in groups to the destination, but the Study Abroad Office will be unable to assist with such arrangements. The program will officially start at a designated meeting point in the country where the program takes place. Program directors will give students detailed instructions on the exact time and place where the group will convene and any necessary logistical information about how to get there. Students will be responsible for getting to the designated meeting place at the indicated time. Students who experience delays or other issues arriving on time should communicate with their program directors as soon as possible. Similarly, the program will conclude at a designated time and place in the country abroad and students will be responsible for their return travel home.
Cancellation and Refund Policies
There are two situations under which CIEA will cancel a faculty-led program. The first is cancellation ahead of or as of the confirmation deadline, typically due to insufficient enrollment. This occurs when a program fails to reach the minimum number of confirmed participants by the confirmation deadline or when other events lead a program to have to be cancelled before it is confirmed. Since program funds are never spent until the program is confirmed, participants in programs cancelled before or as of the confirmation deadline will all receive a full refund of all program fees they have paid to that point. The second circumstance is cancellation due to unforeseeable circumstances after a program has been confirmed. While CIEA attempts to avoid cancellation wherever possible, there are certain times when it is unavoidable, such as global pandemic, changes in local conditions, or even if a large number of late withdrawals makes a program financially non-viable. Under these circumstances, CIEA will issue all participants a refund of all program fees which have not already been paid in non-refundable payments to a third party vendor. CIEA will do its best under such circumstances to recover all costs and mitigate any losses for students, but cannot guarantee a full refund. In the extremely rare event that a program were cancelled while in progress, the Executive Director for International Education in consultation with the VPAA, the Comptroller, and University Council would review the circumstances and make a determination regarding any refunds.
Refunds for students who voluntarily withdraw from a program will vary depending on when they withdraw, according to the following guidelines:
Withdrawal before the confirmation deadline: refund of confirmation payment (if already made)
Withdrawal after the confirmation deadline but before the final payment deadline: refund of final payment only (if already made)
Withdrawal after the final payment deadline: no refund
Students who wish to withdraw must make their withdrawal official by completing the withdrawal form. CIEA will consider withdrawal official on the day the form is submitted and follow up with students with a withdrawal email detailing all withdrawal policies. Finally, students who are dismissed from the program due to disciplinary or other issues will not be entitled to a refund of any program payments and will additionally be responsible for all additional expenses related to their early departure from the program.
Early Application Deadline: December 5
Students who wish to be considered for Foundation Scholarships will need to complete ALL OF the steps outlined below before December 5. Last year, Truman awarded over $85,000 in Foundation Scholarships for Faculty-Led Study Abroad Programs in individual awards ranging from $1,000-$4,000. Foundation Scholarships will be announced by December 14, and students will have until January 20th to either accept or decline any award. Deposits made before the early deadline of December 5 will be refundable until January 20 regardless of whether an award is received.
Regular Application Deadline: Rolling until January 20
Admissions for this program are rolling, but we encourage students to complete ALL OF the application steps outlined below as soon as possible, and no later than January 20th, in order to secure a place in the program. All deposits made after December 5 will be non-refundable unless the program is cancelled.
How to Apply:
Apply through TruView. Go to TruView > Tools > Student > Student Tools > Registration > Apply to Study Abroad. Truview Applications for this program will open at the start of Fall semester. The application will ask for responses to several short-answer questions, passport information, two emergency contacts, and your acceptance of an assumption of risk and release form and media waivers.
Complete Your Registration Agreement. At the time of application, you must complete your registration agreement for the program term through TruView.
Submit Additional Materials If Required. After submitting your application, you may be contacted by the Instructor or the Study Abroad Office with a supplemental application document to complete and return. In some cases, an in-person interview may also be required.
Pay the Truman Cashier a $200 deposit. Once you have been accepted into this program, you will need to immediately pay the Truman cashier a $200 deposit in order to secure your spot in the program.