Here we introduce you to the alumnus of this scholarship for the Fall of  2016 and the Spring of 2017, Shannon Marshall. Contact Info: stm4614@truman.edu.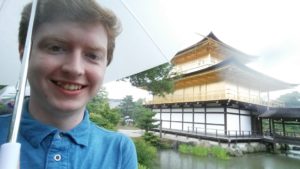 Q: Why did you study abroad?
A: I've been interested in Japan for many years, but never really had the financial capabilities to make a trip. I also have family that lives near Tokyo that I wanted to reconnect with.
Q: How did the culture and academics in Japan affect you?
A: I'm more conscious of the way I present myself now, and to be more considerate of how my actions affect other people. Japanese culture is very polite, so it can be more important to think about other people's feelings rather than my own. As for academic life, a majority of my classes had group projects and presentations built in so I became better at being able to work with others.
Q: How did receiving the Gilman Scholarship affect your time abroad?
A: Since my time at Hosei was through an exchange program, I paid Truman's tuition. Not only did the Gilman Scholarship pay for all of Truman's tuition, but I was also able to pay for my flight tickets with it. Because of this, I did not have to worry about funds while I studied abroad, and even had some money to travel around Japan during weekends or breaks.
Q: How can I contact you?
A: You can send any questions you have to stm4614@truman.edu.