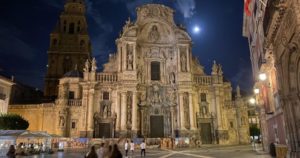 Summer Study Abroad in Valencia, Spain
Get ready for an experience of a lifetime during this 12 credit immersive language and culture program. Led by Truman State faculty, students have daily classes and are immersed in the local culture by living with a host family. Please contact the program directors or the Study Abroad Office if you have any questions.
June 1 – July 31, 2024
Where You'll Go
*Specific dates and activities are subject to change*
June 1: Departure from each student's hometown / Overnight flight to Madrid, Spain
June 2: Meet Dr. Carreño at Madrid airport / Transfer to Valencia
June 3: START of CLASSES: Arrive at Espanolé (International House) at 8:30 a.m. / Classes begin at 9:00 a.m.
June 4 – July 26
Classes from 9:00 a.m. to 1:00 p.m. M-F; and from 1:30 p.m. to 3:00 p.m. M-TH / Cultural activities in the evenings (6:00pm)
June 8: (Weekend 1) Cicloturismo por Alboraya y picnic en la playa
June 15: (Weekend 2) Tour to Calpe y Altea
June 22: (Weekend 3) Tour to Oceanográfic
June 29: (Weekend 4) Tour to Albufera
July 6: (Weekend 5) Tour to Peñíscola
July 12-14: (Weekend 6) Free Weekend (Friday after 2:00 p.m. to Sunday 10:00 p.m.)
July 19-21: (Weekend 7) Tour to Andalucía (Granada y Córdoba) / Overnight in Granada
July 22-26: Last week of classes
July 27: (Weekend 8) Free day to pack and get ready to leave Valencia
July 28-30: Tour to Madrid / Toledo / Overnight in Madrid
July 31: Transfer to Madrid airport (Students free to travel on their own)
What You'll Study
Program Name: Summer Study Abroad in Valencia, Spain
Courses Offered:
ESP 335 Spanish Grammar and Composition I OR ESP 365 Spanish Grammar and Composition II – Truman (counts as SPAN 330)
ESP 340 Spanish Conversation I OR ESP 345 Spanish Conversation II – Truman (counts as SPAN 340)
ESP 395 Advanced Spanish Conversation – Truman (counts as SPAN 300-elective)
ESP 450 Advanced Spanish Grammar and Composition – Truman (counts as SPAN 450)
ESP 362 Culture and Civilization of Spain (counts as SPAN 362 Civilization of Spain)
ESP 355 Topics of Hispanic Literature (counts as SPAN 353 for minors only)
Credits: 12.0
Prerequisites: SPAN 202 – Intermediate Spanish II
Degree Fulfillments: Satisfies Dialogues Intercultural Perspective Requirement, (up to 9 credits can count towards Spanish Minor, up to 6 towards Spanish Major)
Click Here to See the Complete Course Description.

ESTIMATED COSTS: $11,320.71
Study Abroad Enrollment Fee: $4,566

 
Calculated at $4,566 for 12 credits
Study Abroad Course Fee: $216.00
Calculated at $18.00 per credit x 12 credits
Study Abroad Insurance Fee: $83.50
Calculated at $41.75 per month x 2 months
Study Abroad Travel Fee: $4,291.21
Including: Espanole Program Fees, Excursions, Travel Expenses, Contingency Fund, and Instructor Costs
Flight Information: This program DOES NOT INCLUDE GROUP AIRFARE (see below for additional information)
Study Abroad Housing Fee: $2,164
Including: Housing and Most Meal Costs
Foundation Scholarships Available
The Truman State University Foundation offers scholarships to students who are studying abroad on faculty-led programs. Students applying for faculty-led programs will be automatically considered for Foundation Scholarships when they complete their TruView Study Abroad application by the their program's deadline. To Apply: 
TruView

> Student > Registration Tool > Apply to Study Abroad > Application > Term: Summer 2024 > Applying for Faculty-Led Program
In addition to potential scholarships, students may be eligible for additional financial aid. Please talk with the Financial Aid Office for more information.
PAYMENT SCHEDULE
| Options | Due | Amount |
| --- | --- | --- |
| Early Deposit* | 12/4/2023 | $200.00 |
| OR Regular Deposit (Commitment Deadline)* | 1/19/2024 | $200.00 |
| Payment 1 (Confirmation Payment) | 2/19/2023 | $5,560.36 |
| Payment 2 (Final Payment) | 3/20/2023 | $5,560.36 |
*Early deposit is required for consideration for Foundation Scholarships. Early Deposits received before 12/5/2022 will be refundable until 1/19/2024.
ESTIMATED OUT-OF-POCKET EXPENSES

This section contains estimated out-of-pocket program costs students will pay themselves before, during, and possibly after the program. The items appearing here are only estimates and will vary due to changes in currency rates, market conditions, foreign government fee increases, personal student spending habits, and non-program related activities in which a student chooses to participate.
| Expense | Estimated Cost |
| --- | --- |
| U.S. Passport (first time applicant) | $200.00 |
| Travel Health Consult & Vaccinations | $100.00-$200.00 |
| Meals on Your Own | $100 |
| Personal Necessities | $100.00-$150.00 |
| Airfare | $1200.00-$1600.00 |
Flight Information
This program does not include Group Airfare as part of its billed cost. Students participating in this program will not have their flights arranged for them, but must purchase their own tickets. Students should never purchase tickets until they receive notice from the study abroad office that their program has been confirmed. This cannot be confirmed until after the first trip payment deadline. Additionally, students are highly encouraged to investigate travel or flight insurance options or purchase cash-refundable tickets according to their need to mitigate risk of financial loss should the program or flights be cancelled. Students must share a copy of their tickets or an itinerary of travel with the study abroad office at least one month prior to departure. Students are free to arrange with one another to travel in groups to the destination, but the Study Abroad Office will be unable to assist with such arrangements. The program will officially start at a designated meeting point in the country where the program takes place. Program directors will give students detailed instructions on the exact time and place where the group will convene and any necessary logistical information about how to get there. Students will be responsible for getting to the designated meeting place at the indicated time. Students who experience delays or other issues arriving on time should communicate with their program directors as soon as possible. Similarly, the program will conclude at a designated time and place in the country abroad and students will be responsible for their return travel home.
Cancellation and Refund Policies
There are two situations under which CIEA will cancel a faculty-led program. The first is cancellation ahead of or as of the confirmation deadline, typically due to insufficient enrollment. This occurs when a program fails to reach the minimum number of confirmed participants by the confirmation deadline or when other events lead a program to have to be cancelled before it is confirmed. Since program funds are never spent until the program is confirmed, participants in programs cancelled before or as of the confirmation deadline will all receive a full refund of all program fees they have paid to that point. The second circumstance is cancellation due to unforeseeable circumstances after a program has been confirmed. While CIEA attempts to avoid cancellation wherever possible, there are certain times when it is unavoidable, such as global pandemic, changes in local conditions, or even if a large number of late withdrawals makes a program financially non-viable. Under these circumstances, CIEA will issue all participants a refund of all program fees which have not already been paid in non-refundable payments to a third party vendor. CIEA will do its best under such circumstances to recover all costs and mitigate any losses for students, but cannot guarantee a full refund. In the extremely rare event that a program were cancelled while in progress, the Executive Director for International Education in consultation with the VPAA, the Comptroller, and University Council would review the circumstances and make a determination regarding any refunds.
Refunds for students who voluntarily withdraw from a program will vary depending on when they withdraw, according to the following guidelines:
Withdrawal before the confirmation deadline: refund of confirmation payment (if already made)
Withdrawal after the confirmation deadline but before the final payment deadline: refund of final payment only (if already made)
Withdrawal after the final payment deadline: no refund
Students who wish to withdraw must make their withdrawal official by completing the withdrawal form. CIEA will consider withdrawal official on the day the form is submitted and follow up with students with a withdrawal email detailing all withdrawal policies. Finally, students who are dismissed from the program due to disciplinary or other issues will not be entitled to a refund of any program payments and will additionally be responsible for all additional expenses related to their early departure from the program.
Your Instructor
Dr. Jose Carreño Medina
Associate Professor of Spanish
jcarreno@truman.edu | BH260
A little bit about Dr. Carreño Medina…
Ph.D. and M.A. University of Missouri-Columbia
B.A. Universidad Internacional
Dr. Carreño Medina teaches all levels of Spanish courses, including Latin American literature and culture.
His research focuses on contemporary Hispanic poetry and 20th- and 21st-century Mexican literary and cultural studies.
---
You must have completed SPAN 202 (or equivalent) prior to the beginning the program.
Early Application Deadline: December 4
Students who wish to be considered for Foundation Scholarships will need to complete ALL OF the steps outlined below before December 4. Truman awards more than $90,000 in Foundation Scholarships for Faculty-Led Study Abroad Programs in individual awards ranging from $1,000-$4,000. Foundation Scholarships will be announced by December 11, and students will have until January 19 to either accept or decline any award. Deposits made before the early deadline of December 4 will be refundable until January 19 regardless of whether an award is received.
Regular Application Deadline: Rolling until January 19
Admissions for this program are rolling, but we encourage students to complete ALL OF the application steps outlined below as soon as possible, and no later than January 19, in order to secure a place in the program. All deposits made after December 4 will be non-refundable unless the program is cancelled.
How to Apply
Apply through TruView. Go to TruView > Tools > Student > Registration Tool > Apply to Study Abroad > Application > Term > Applying for Faculty-Led Program. TruView Applications for this program will open at the start of Fall semester. Students applying for faculty-led programs will be automatically considered for Foundation scholarships when they complete their TruView Study Abroad application by their program's deadline. The application will ask for responses to several short-answer questions, passport information, two emergency contacts, and your acceptance of an assumption of risk and release form and media waivers.
Complete Your Registration Agreement. At the time of application, you must complete your registration agreement for the program term through TruView.
Submit Additional Materials If Required. After submitting your application, you may be contacted by the Instructor or the Study Abroad Office with a supplemental application document to complete and return. In some cases, an in-person interview may also be required.
Pay the Truman Cashier a $200 deposit. Once you have been accepted into this program, you will need to immediately pay the Truman cashier a $200 deposit in order to secure your spot in the program. You may also pay online by going to: TruView > Student > Student Finances & Employment > Student Account Suite > Then follow the steps: Click "Deposits" at the top of the page, Select the term, Select a deposit payment method, "Continue" Choose a payment method.