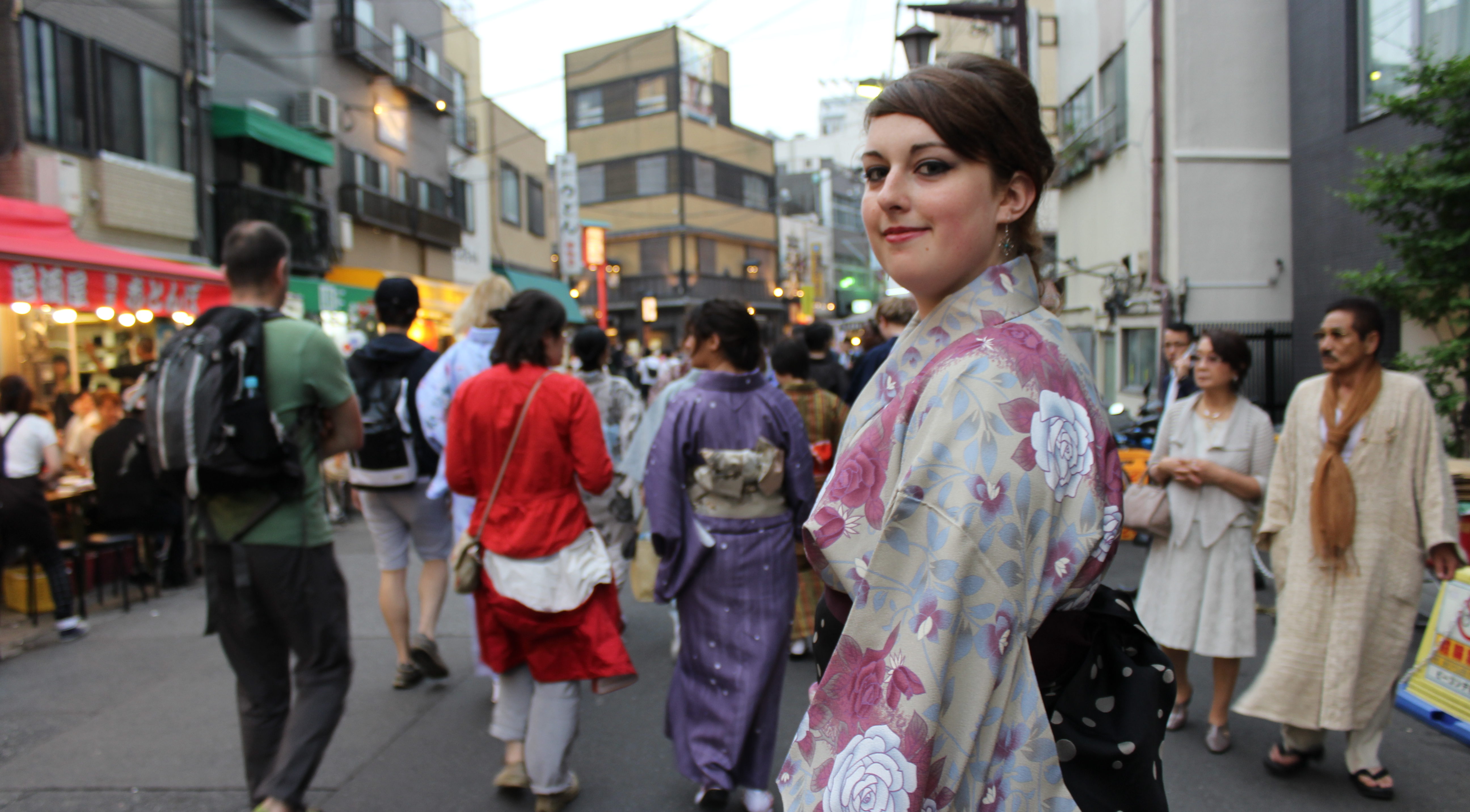 MODERN AND TRADITIONAL JAPAN
This six-week program features three weeks of intensive Japanese language instruction in Kyoto followed by three weeks of cultural immersion and travel to Kyoto, Hiroshima and Tokyo. Fulfills six credit hours of the nine credits of elective hours needed for the Japanese minor. Pricing information will be made available when the program is approved. Please contact the program director or the Study Abroad Office if you have any questions.
Where You'll Go*
Below is the itinerary from last year's program. Some events and dates will be modified for this coming year, but this list is provided to give you a better idea of the types of experiences you can anticipate:
Tuesday, June 30th: Arrive at Kansai International Airport (KIX)
Wednesday, July 1st: Arrive at Kyoto University of Foreign Studies (KUFS)
Thursday, July 2nd: Orientation and campus tour
Friday, July 3rd: Placement results given, class, and tutoring
Saturday, July 4th: Study Tour
Sunday, July 5th: Ryōanji Rock Garden or Zazen at Myōshin-ji
Monday-Friday, July 6th – 10th: Class and tutoring
Saturday, July 11th: Study Tour
Sunday, July 12th: Ryōanji Rock Garden or Zazen at Myōshin-ji
Monday-Friday, July 13th – July 17th: Class and tutoring
Saturday, July 18th: Certificate ceremony and Farewell Party
Sunday, July 19th: Free day
Monday, July 20th: The Silver Pavilion and Kiyomizu Temple
Tuesday, July 21st: The Golden Pavilion and Tō-Ji
Wednesday, July 22nd: Free day
Thursday, July 23rd: Final presentations & Shimo-gamo Shrine
Friday, July 24th: Free day
Saturday, July 25th: Hiroshima and Itsukushima Shrine
Sunday, July 26th: Hiroshima Peace Memorial Park
Monday, July 27th: Tokyo
Tuesday, July 28th: Akihabara
Wednesday, July 29th: Shibuya, Harajuku, and Meiji Shrine
Thursday, July 30th: Imperial Palace and Tokyo Station
Friday-Sunday, July 31st – August 2nd: Free day
Monday, August 3rd: Tokyo National Museum
Tuesday, August 4th: Rikugi-En and Strolling the Ya-Ne-Sen area (谷根千)
Wednesday, August 5th: Edo-Tokyo Museum & Brunch at Tsukiji Fish Market
Thursday, August 6th: Kabuki (2 acts)
Friday-Sunday, August 7th – August 9th: Free day
Monday, August 10th: Leave Tokyo and arrive home
*Please remember that this itinerary is tentative and subject to change. More details will be shared as they become available.
What You'll Study
Course Name: Modern & Traditional Japan
Course Number: JPN 353
Credits: 6.0
Pre-Requisites: None
Degree Fulfillments: Satisfies LSP Intercultural Competency Requirement
Click Here to See the Complete Course Syllabus.
Course Objectives
Language Component:
Enhancing global awareness is essential to Truman's liberal arts education. The language component of this study abroad course provides opportunities for students to enhance their awareness of linguistic and socio-cultural diversity by being fully immersed in the target language-speaking society for six weeks. Students improve their four language skills (listening, speaking, reading, and writing) and advance their understanding of socio-cultural aspects of language use.
Culture Component:
Enhancing awareness of cultural diversity is essential to Truman's liberal arts education. The culture component of this course provides opportunities to learn experientially about cultural diversity. Students 1) gain knowledge about Japanese culture through reading and discussion in pre-departure workshops; 2) use that knowledge to direct their attention to particular aspects of cultural artifacts and sites while directly observing those cultural products; and 3) synthesize their knowledge and expectations with their firsthand experiences to arrive at their own discovery of Japanese culture. Through these processes, students will deepen their understanding of Japanese culture, thereby broadening their cultural horizons.
Course Materials
Course materials provided by the Kyoto program
GENKI I or II and GENKI Workbooks I or II (2nd ed.)
Japanese Culture (4th ed.)
Additional reading materials handed out during pre-departure workshops.
Your Instructor

Dr. Masahiro Hara
Professor of Japanese
mhara@truman.edu | MC 315
Let Us Know You're Interested!

Due to world-wide travel restrictions, the Study Abroad Office has delayed opening the application and deposit process for the "Modern and Traditional Japan" faculty-led study abroad programs with Professor Masahiro Hara for Summer 2021. However, we are asking interested students to COMPLETE THIS ONLINE INTEREST FORM in order to better understand who is considering programs this year and keep you up to date with the most current information about applications, deadlines, and program changes. Completing this form does not commit you to participating in a program or create any charges on your student account. It will only be used to help our office better communicate with interested students to facilitate your application process.