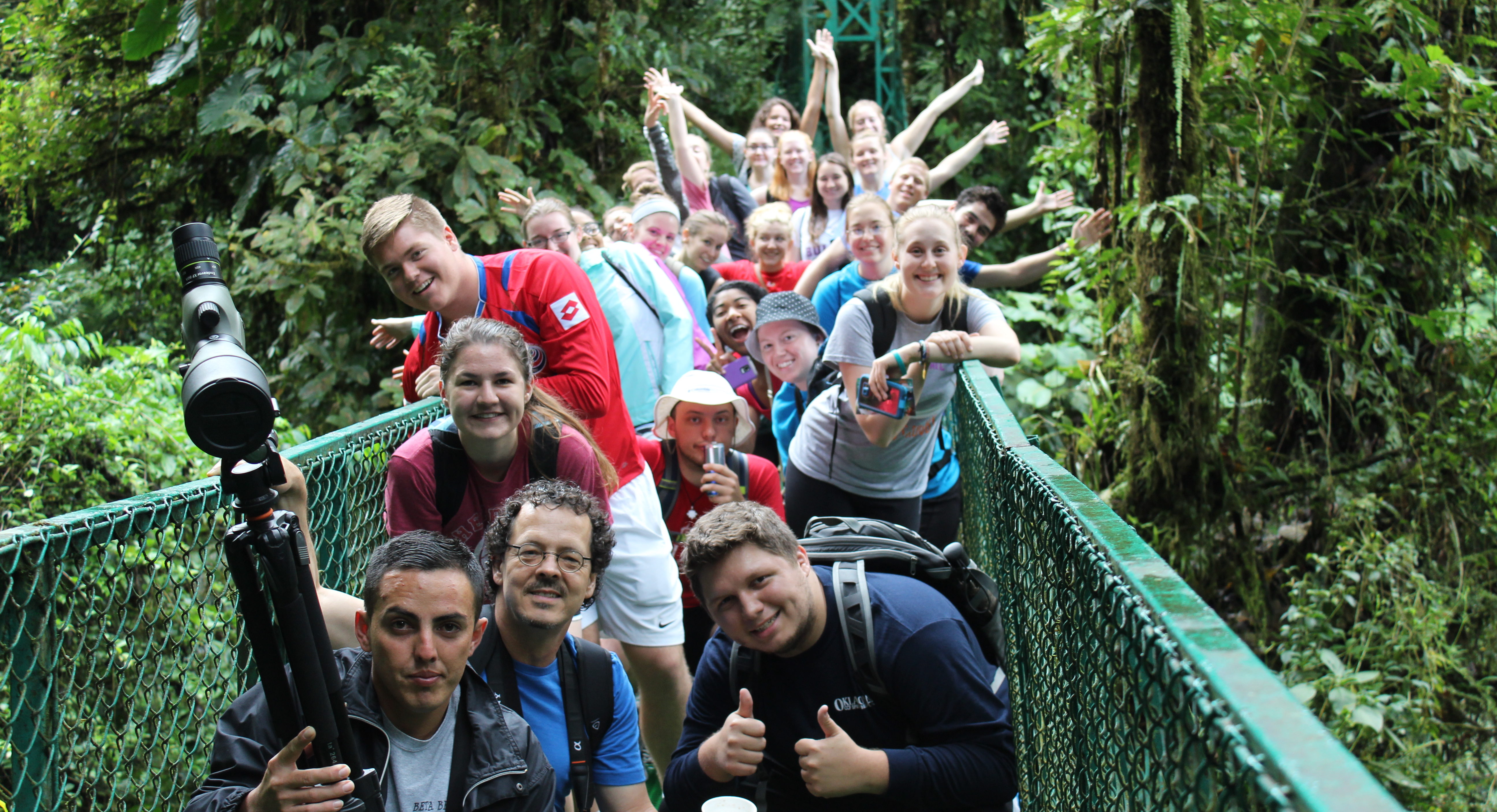 Submit an Application, Deposit, and Registration Agreement by January 20th to be considered for one of our faculty-led programs (DEADLINE EXTENDED to February 7th, 2020)!
COSTA RICA SUMMER SPANISH LANGUAGE & CULTURE IMMERSION
This is an 8-week program of complete linguistic and cultural immersion, based in San Jose, Costa Rica, where each student stays with a host family. Students take four courses (12 hours of credit total) at the Costa Rica Language Academy (CRLA), in grammar and composition, conversation, Latin American culture and civilization, and Costa Rican literature, taught by both Truman professors and CRLA professors. As part of this program, students also have many opportunities to travel and experience weekend excursions to bio-diverse sites such as Monteverde, arsenal, and Tortuguero. Experience trips to volcanoes, hot springs, colonial-era churches, zip lining, waterfalls, crocodile tour, and end the trip in the relaxing beach in Manuel Antonio.
Where You'll Go*
Saturday, May 16th: Departure from each student's hometown / flight(s) to San José, Costa Rica; Afternoon arrival in San José / Meet Dr. Sendón and Dr. Tornatore at the airport / Transfer to host families via chauffer service provided by CRLA
Sunday, May 17th: Rest and unpack; spend time getting to know CR host families; explain how to arrive to CRLA either by bus or walking
Monday, May 18th: Leave in the morning accompanied by CR host families to the CRLA; orientation conducted by CRLA staff
May 18th-21st: First week of classes; each instructor discusses the syllabus, text, requirements, and begins instruction. Tours will also be discussed
May 22nd-July 9th: Main program. Participate in classes. Experience various weekend trips and cultural visits throughout.
Friday, July 10th: Free day to pack and get ready to leave; final family time
Saturday, July 11th: Flights home
In addition, students participate in the native culture daily by living with a host family, by taking educational field trips to various parts of the country, including four (4) different trips on the weekend (Arenal, Monteverde, Manuel Antonio, and Tortuguero), plus three (3) local cultural visits (city tour of San José, surrounding museums, and Irazú Volcano, Orosi Valley, Lankaster Gardens, and by taking part in many other group activities.
The total number of contact hours that students have while in Costa Rica is two hundred ten (210) classroom hours, eighty-plus (80+) additional hours of instructional touring, and approximately forty-plus (40+) additional hours of free time on tours.
*Please remember that this itinerary is tentative and subject to change. More details will be shared as they become available.
What You'll Study
Course Name: Costa Rica Summer
Courses: SA CR 300
SPAN 330 – Spanish Grammar & Composition
SPAN 340 – Spanish Conversation
SPAN 353 – Introduction to Hispanic Literature
SPAN 363 – Latin American Culture & Civilization
SPAN 440 – Spanish Conversation
SPAN 450 – Spanish Grammar & Composition
*Placement testing is done by the Costa Rica Language Academy (CRLA)
Credits: 12.0
Pre-Requisites: SPAN 202 – Intermediate Spanish II
Degree Fulfillments: Satisfies the Intercultural Competency LSP requirement, students can bring back up to 9 hours towards a Spanish Minor and 6 hours towards a Spanish Major
What You'll Pay
TOTAL COST ON STUDENT BILL: $8,953.00
Study Abroad Enrollment Fee: $3,894.00
Calculated at $324.50 per credit x 12 credits
Study Abroad Course Fee: $216.00
Calculated at $18.00 per credit x 12 credits
Study Abroad Insurance Fee: $38.00
Calculated at $38.00 per month x 2 months
Study Abroad Travel Fee: $2,218.00
Including: Group Excursions, Contingency Fund, and Instructor Costs (NOTE: International Airfare is NOT included in Travel Fee**)
Study Abroad Housing Fee: $2,549.00
Including: Room and Board at Home Stays, CRLA Classroom, Instruction, and Lunch Costs
*All pricing is TENTATIVE PRICING ONLY. These prices are only an estimate of this program's cost at the current time. This price will be updated and finalized only after additional details and pricing for various aspects of the trip have been confirmed by the Center for International Education Abroad.
**NOTE: International Airfare is NOT included in Travel Fee, the estimated cost for this flight is an additional $500-$800.
PAYMENT SCHEDULE
| | Due | Amount |
| --- | --- | --- |
| Early Deposit* | 11/15/2019 | $200.00 |
| OR Regular Deposit* | 1/17/2020 | $200.00 |
| Payment 1 | 2/21/2020 | $4,376.50 |
| Payment 2 | 3/20/2020 | $4,376.50 |
*Early deposit is required for consideration for Foundation Scholarships. Early Deposits received before 11/15/2019 will be refundable until 1/17/2020.
What Students Say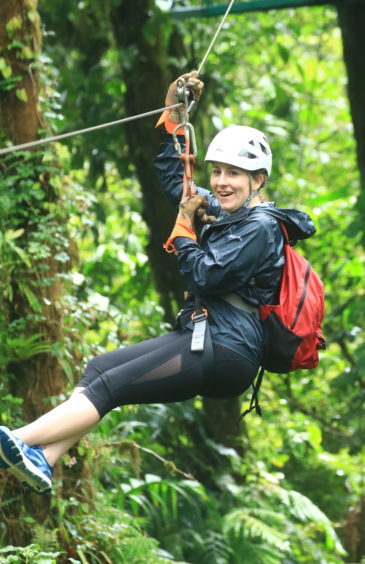 "I never expected it when I left for Costa Rica, but this trip has changed my life. My Spanish skills have improved exponentially, but, more importantly, my eyes have been opened to a new culture. It's hard to believe, but I did all of this while making new friends and exploring the natural beauties of the country."
Anna Hess, Communication Disorders Major, Class of 2020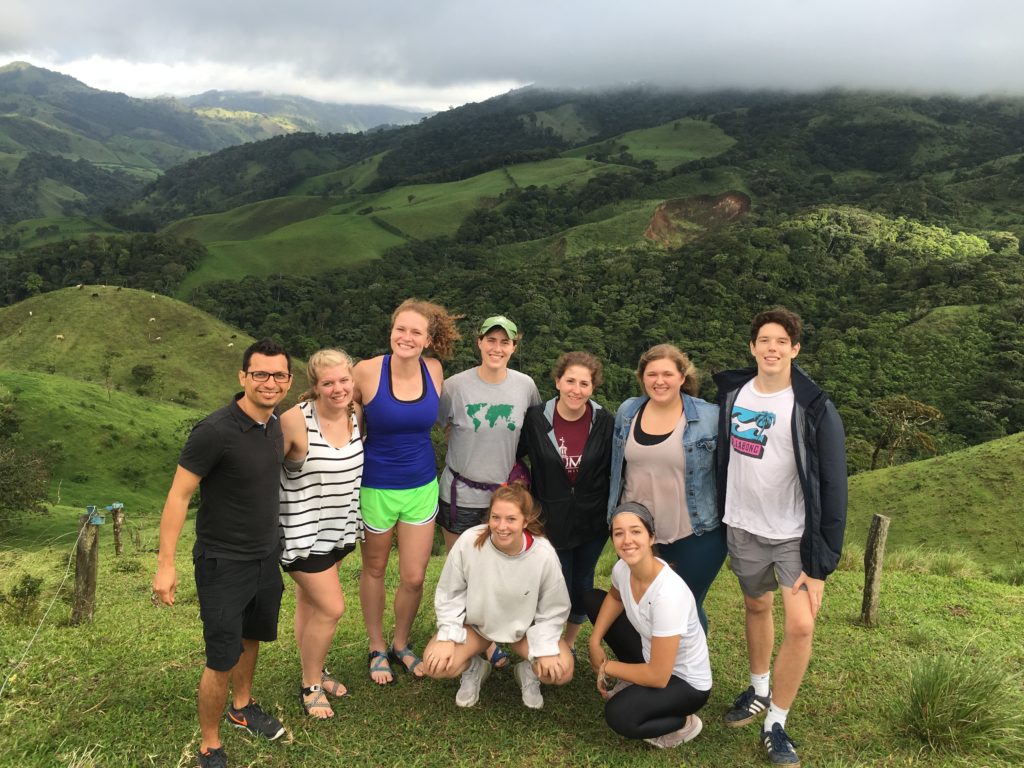 "If you are thinking about going on the Costa Rica Summer Program, stop thinking about it and apply! It will be two of the most transformative and incredible months of your life. You will be able to learn so much about the culture, language, and people while having the time of your life. It is truly an experience of a lifetime!"
Sammy Garrett, Interdisciplinary Studies Major, Class of 2020
Your Instructor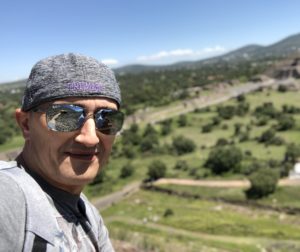 Dr. Óscar Sendón
Assistant Professor of Spanish
osendon@truman.edu | BH 211
A native of Galicia, Spain, Óscar earned his B.A. and M.A. degrees in Hispanic Philology at the University of Santiago de Compostela, and completed his Ph.D. in Spanish Literature at the University of Nebraska- Lincoln. He has taught Spanish language and literature in Spain and France before coming to the United States. In addition to teaching, Óscar studies the role of soldiers in Spanish literature and is conducting research that draws connections between modern soldiers and those in the 16th and 17th centuries. In his free time, he spends as much time as possible with his wife and daughter. He also enjoys reading comics, watching old movies, and hiking. While in college, he spent a month hiking the entire Camino de Santiago across northern Spain!
Sign Up Now!
Early Application Deadline: November 15th, 2019
(Deadline to be considered for foundation scholarships for 2019-2020 programs has passed.)
Students who wish to be considered for Foundation Scholarships will need to complete ALL OF the steps outlined below before November 15th, 2019. Last year, Truman awarded over $80,000 in Foundation Scholarships for Faculty-Led Study Abroad Programs in individual awards ranging from $250-$3,000. Foundation Scholarships will be announced by December 6th, 2019, and students will have until January 20th, 2020 to either accept or decline any award. Deposits made before the early deadline of November 15th, 2020 will be refundable until January 20th, 2020 regardless of whether an award is received.
Regular Application Deadline: Rolling until January 20th, 2020
Admissions for this program are rolling, but we encourage students to complete ALL OF the application steps outlined below as soon as possible, and no later than January 20th, 2020, in order to secure their place in a program. All deposits made after November 15th will be non-refundable unless the program is cancelled.
How to Apply:
Apply through TruView. To access the Study Abroad Application on TruView, click on "Student" > "Registration" > "Apply to Study Abroad" > "Application">"Term: May Interim 2020″. The application will ask for responses to several short-answer questions, two emergency contacts, and your acceptance of an assumption of risk and release form and media waivers. You may submit passport information with your application, but you do NOT have to have a passport before applying.
Complete Your Registration Agreement. At the time of application, you must complete your registration agreement for the May Interim 2020 term through TruView. To access the Registration Agreement, click "Student" > "Registration" > "Registration Agreement".
Pay the Truman Cashier a $200 deposit. At the time you apply, pay your deposit online through your Truview account in the Student Account Suite, with the "eDeposits" option for May Interim 2020 term, mail a check, or make payment at the cashier window.